Wear Your Invisible Crown's

Spring 2013 Faves:
Part II
In line with our recent post "A Study in Contrast," we enthusiastically introduce Dries Van Noten's Spring 2013 collection. This collection married two very different stylistic genres—Kurt Cobain grunginess and frou-frou florals—in order to create unpredictable beauty. More than any other Spring 2013 collection, Dries Van Noten's perfectly embodies "A Study in Contrast."
This Belgian-born designer, known for his humility and innovation, generally thrives on idiosyncratic taste and style
"that reroutes us from the ordinary." This season he fashioned plaid, which is usually associated as boyish, into airy chiffon and taffeta. Van Noten continued to investigate "masculine + feminine" intrigue by pairing plaid with floral appliqué skirts. He also styled plaid skirts with leopard print clutches.

"The more clashing there is, the more I like it!
"
said Van Noten.
Scroll down to see how YOU can easily adapt the nonchalant elegance that defines Dries Van Noten Spring 2013.
Strangely Romantic and Seasonless
The reason we chose to feature this collection in March is because it offers a smooth transition from winter to spring. The dark colors allude to winter's farewell, while the lightweight fabrics allow us to spring to the future. There is no awkward "which season am I in?" phase. We are in both, and so we should embrace it.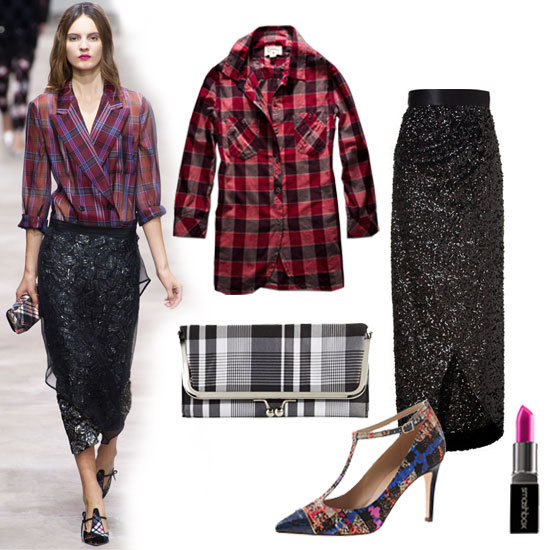 This "Style How-To" is from

www.Fabsugar.com

. Wearing a plaid shirt with a sequin evening skirt is both broodingly romantic and subversive. We would happily wear this during a night on the town—maybe even at a Bar-Mitzvah or engagement party. Let's rethink "formal wear," shall we?
Spring 2013 is presently having an affair with Metallic. As I type this, gold and silver are becoming fashion's full-blown neutrals. One can wear metallic with anything. It also lends a cool, futuristic twist to even the most classic of designs, such as peplum and sheaths.

It's All in the Deets…
Accessories here were kept minimalistic. Necklaces arrived in the form of simple, versatile chains. Because, let's face it, who would ever want to detract from the artfully crafted clothes of Van Noten?
Leave your reservations about "print mixing" at the Dull House. Here at Van Noten, we inhale dichotomy and exhale pure style.
We're thankful that checkered prints are ubiquitous this spring, especially when they appear on the timeless pump. Reinventing a classic is always great fun.
In our opinion, Van Noten's masculine/feminine aesthetic is youthful without being pretentious. Its ode to 90s grunge with hints of modern metallic offers a unique blend of nostalgia and futurism. Its airy fabrics encapsulate Spring's freshness. In other words, we think it's perfect.
Enough about what we think. Do YOU like this collection or not? Would you incorporate its aesthetic into your wardrobe?
Please click on the

"Spring Trend"

label below to see our past coverage of 2013's collections (We already covered

Tory Burch

).